This contest is now closed. Congratulations to Sandra Dufoe… winner of the Blue Wren Shallows Giveaway.
G'day Scavengers,
Welcome to the Christian Fiction Scavenger Hunt! If you've just discovered the hunt, be sure to start at Stop #1, and collect the clues through all the stops, in order, so you can enter to win one of our top 5 grand prizes!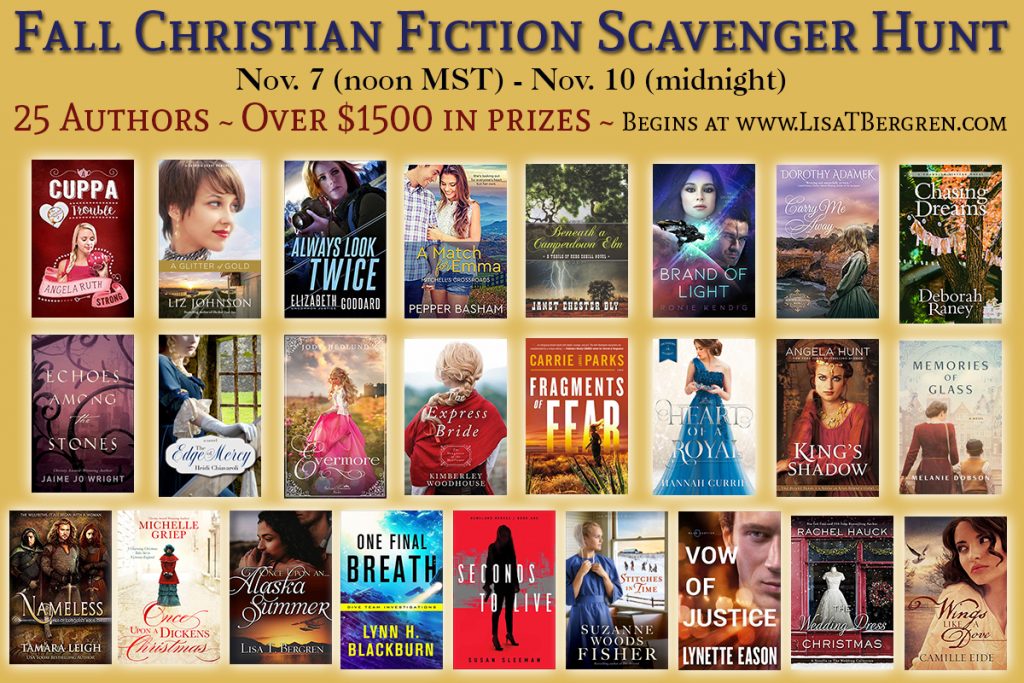 The hunt BEGINS on 11/7 at noon MST with Stop #1 at Lisa Bergen
Hunt through our loop using Chrome or Firefox as your browser (notExplorer).
There is NO RUSH to complete the hunt—you have all weekend (until Sunday, 11/10 at midnight MST)! So take your time, reading the unique posts along the way; our hope is that you discover new authors/new books and learn new things about them.
Submit your entry for the grand prizes by collecting the CLUE on each author's scavenger hunt post and submitting your answer in the Rafflecopter form at the final stop, back on Lisa's site. Many authors are offering additional prizes along the way!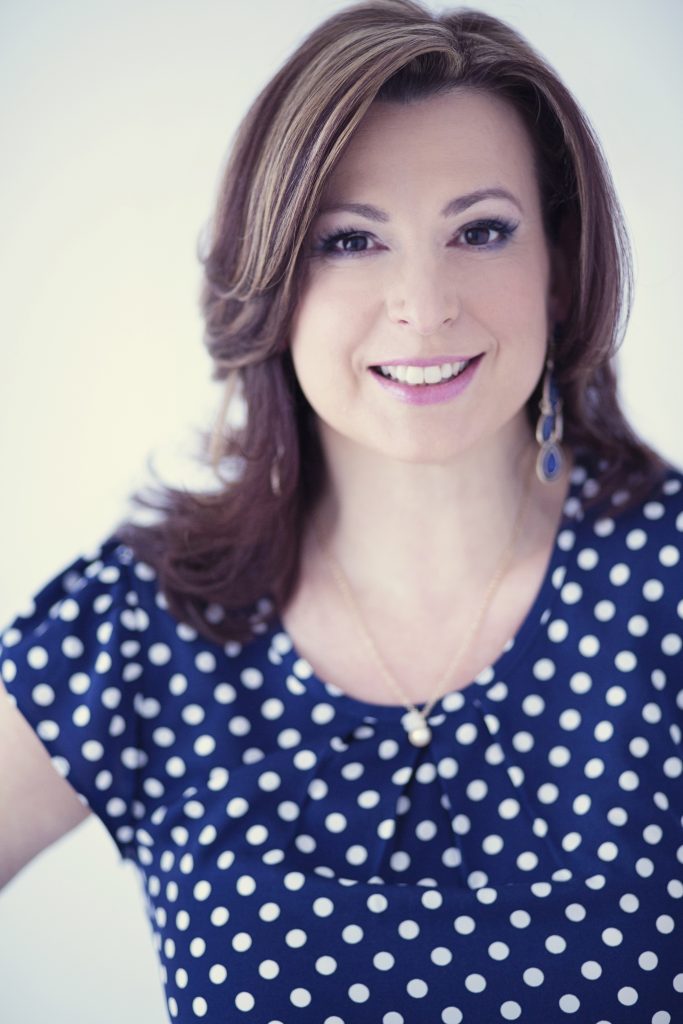 My name is Dorothy Adamek, writer of Australian Historical Romance, and I love it when my friends call me Dotti. I adore all things old-worlde ~ black and white floors, blue and white china, and licorice. Yum. Did you know licorice was invented in the 16th century? My most recent heroine also loves to nibble on licorice. And when you read my stories you will travel through time and across the globe, straight into Colonial Era Australia, with a dash of Dotti thrown in for good measure.
Yes, I'm a proud Aussie and love introducing my readers to our beautiful country and its courageous people.
You can learn more about me and my Blue Wren Shallows series set on Phillip Island, (two hours drive from my home in Melbourne) right here on my website and on Facebook and Instagram.
If you're new to my Australian series, this is a great time to start with book 1, Carry Me Home ~ currently at the special price of 99c (ends November 11th) and you can find it here.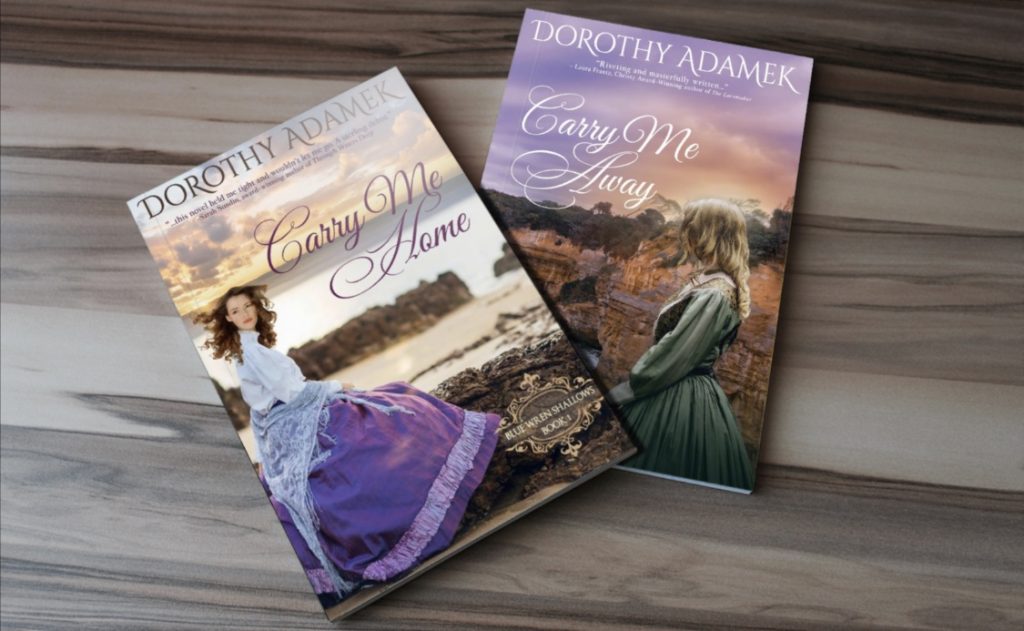 PLUS, you are scavenging through my Ink Dots Journal Page in a week of great celebration.
My newest book, Carry Me Away, released TWO days ago! And I'm delighted to welcome readers back into the 1870s pioneering world of Australia in her infancy.
Carry Me Away  – AVAILABLE NOW AT AMAZON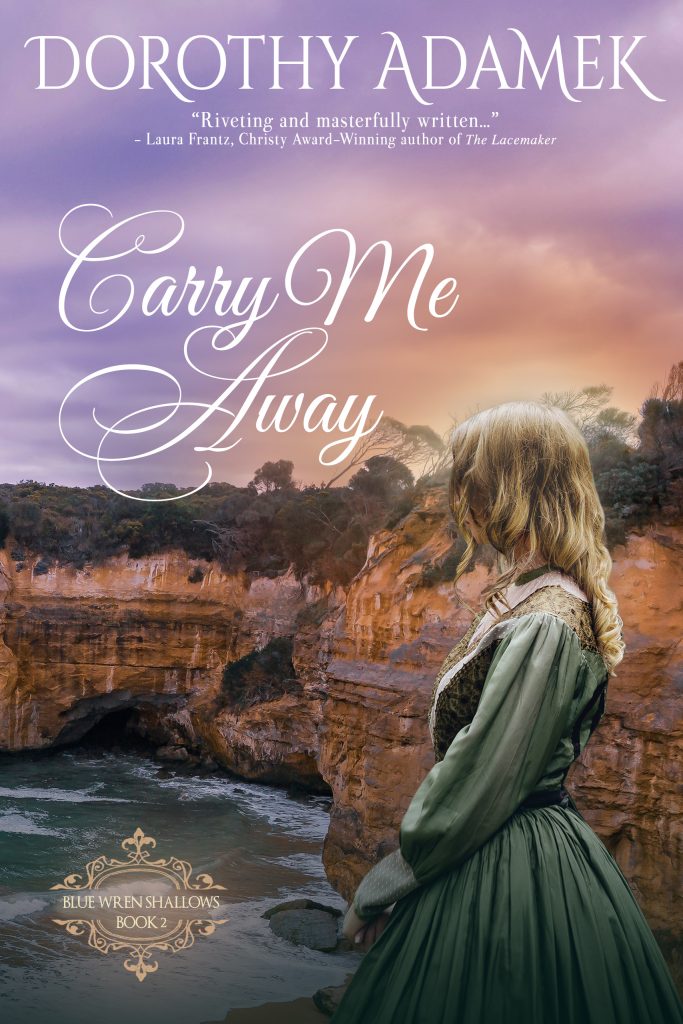 When the Black Swallow sinks off the Australian coast in 1877, Australian midshipman Tom Darley rescues English passenger Ada Carmichael from the disaster that claims her entire family. News of the only two survivors enchants the world, but Ada needs to hide before secrets and old foes find her. Tom is chasing big dreams of a crumbling house he will convert into a small hotel ~ but the promising start he's acquired now sits at the bottom of the sea.
Inexplicably entangled, Ada and Tom lean upon each other to make sense of the tragedy that's displaced them. But when scheming journalists observe their affection they drag Tom into life-altering riches and a news-worthy romance he cannot resist. So he arranges for Ada's protection where only he might find her ~ the quiet Phillip Island farm of his friends Shadrach and Finella Jones.
And that's where real trouble finds them. When heroic promises fail to shelter, and love refuses to be silenced, only surrender will pluck Ada and Tom from where life has wrecked them.
How Did I Pick My Most Recent Aussie Hero?
I know many authors have been smitten by Aussie actor Chris Hemsworth when they've gone looking for a romantic hero. He's handsome and fights for what's right. He often appears in hero material Pinterest collections and writing room vision boards. And with good reason. Look at those eyes!
But did you know Chris and his famous brothers were raised on Phillip Island in their teen years? Yes, they were. (Around the same time my family holidayed there every summer.) What better choice for my hero inspiration than someone who also holds the island among his formative memories and who returns there from time to time to visit his parents?
I've yet to bump into Chris Hemsworth in the Phillip Island supermarket. But I might, someday. And wouldn't it be fun to let him know he's the inspiration for a hero who walked the very shores that lap the island…. 140 years ago?
And if Chris and I ever discuss a Blue Wren Shallows movie, I'll be sure to let you know.
Here's the Stop #24 Skinny:
If you're interested, you can order Carry Me Away from Amazon. 
Clue to Write Down: -Hal
Next Stop on the Loop: Camille Eide's site! 
Good luck to all those entering for major prizes.
But wait, before you rush off ~ here's another chance to WIN.
To celebrate the release of Carry Me Away, I'm giving away a Blue Wren Shallows Gift Pack to one lucky entrant. Enter the Rafflecopter form below to win Carry Me Home, along with the beautiful sounds and earthy aromas of the Australian bush!
This is an international contest ~ open to all.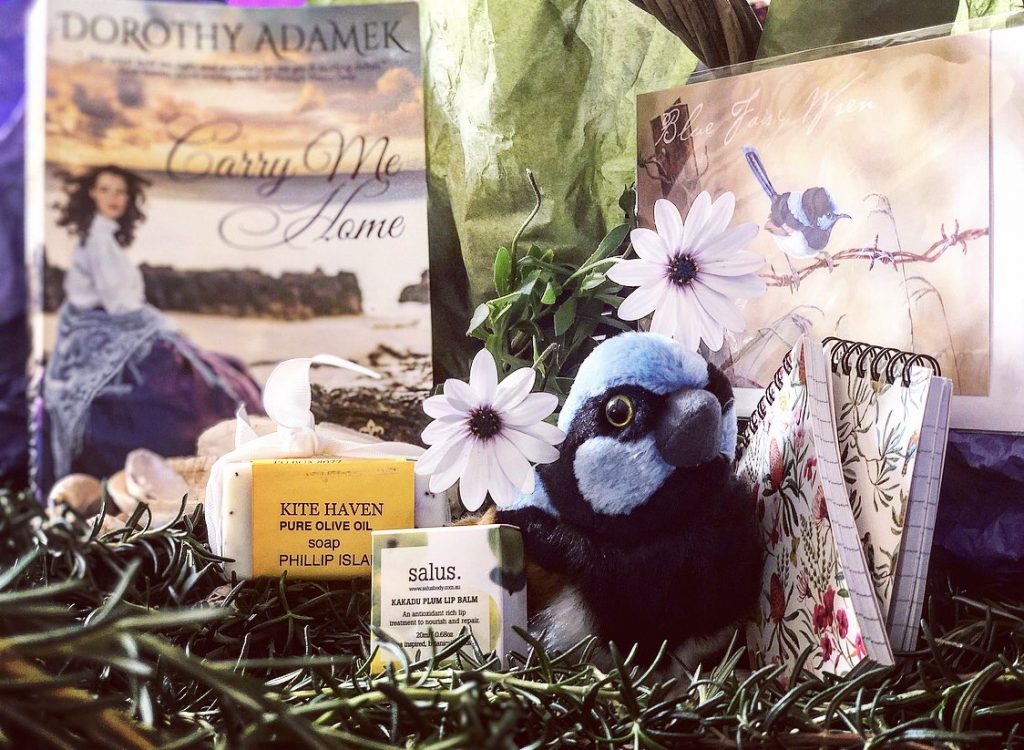 Signed print copy Carry Me Home (book 1)
Blue Wren chirping soft toy
Olive oil soap made on Phillip Island
Australian-made Kakadu lip balm
Two Australian botanical notepads
Blue Wren Card – painted by renowned Melbourne botanical artist, David Reynolds
Thank you so much for stopping by, and GOOD LUCK in your book gathering and new author discoveries. Fabulous readers like you are the reason we write, and I am ever grateful for each one.
Happy reading,
Dotti